4 - Pregnenolone Sulfate and Aging of Cognitive Functions: Behavioral, Neurochemical and Morphological Investigations. Hormones and Behavior 40, 215-217 (2001), Mayo M et al. Cerebral Pregnenolone correlated with cognitive performance and is improved with replacement in deficient older adults. Pregnenolone increases Acetylcholine in amygdla, cortex and hippocampus so the brain works better and clearer.
Neuroactive Steroid Levels in Patients with Generalized Anxiety Disorder. The Journal of Neuropsychiatry and Clinical Neurosciences 2001; 13:396-398. Semeniuk, T et al. Patients with Generalized Anxiety Disorder were found to have statistically lower levels of Pregnenolone.
Analysis of neurosteroid levels in attention deficit hyperactivity disorder. Int J Neuropsychopharmacol 2001 Sep;4(3):259-64. Strous RD et al. Inverse correlation between clinical symptoms and levels of DHEA and Pregnenolone in young male subjects aged 7-15 years with DSM-IV criteria of ADHD.
Neurosteroids in the Hippocampus: Neuronal Plasticity and Memory Stress. Schumacher M 1997 Oct;2(1):65-78. There is accumulating evidence that some neurosteroids, in particular pregnenolone sulfate, have strong influences on learning and memory processes, most likely by regulating neurotransmission in the hippocampus.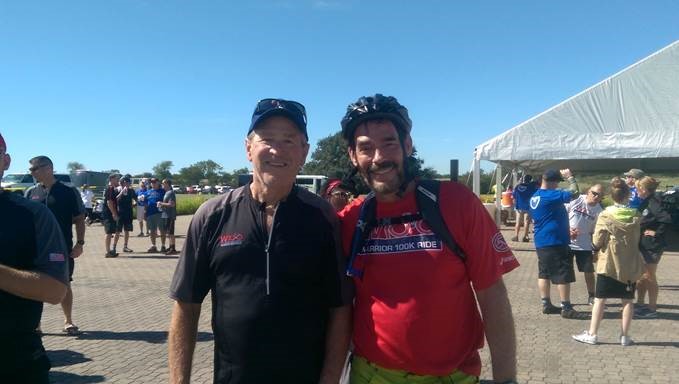 Mr. President - George W. Bush
This past September, as a guest of President Bush's W100k bike ride, I have another level of respect for our 43rd president. As a guest, participant and observer I found this program to be overwhelming with the kindness and generosity that was shown to our Warrior Heroes and their guests by both President and Mrs. Laura Bush! We were invited to their home for a sit down dinner which was followed by Jay Leno and the choir from the Prairie Lane Church. Such a Phenomenal Evening. Andrew and I had the pleasure of sitting at a small table with President Bush's friend since age 6 - Michael. The stories were classified and the laughter abounding.